A Valuable First-hand Experience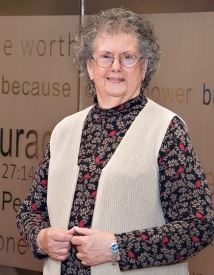 When Carol O'Neill, RN, required short-term rehab following hip surgery, the Mahwah resident took a bit of her own advice. As the Parish Nurse of Old Paramus Reformed Church in Ridgewood, Ms. O'Neill has referred many parishioners to Christian Health (CHCC) and visited them while here.
"Since so many of our congregants come to Christian Health, I thought that first-hand experience would be very valuable when making referrals in the future," she says.
A fracture resulting from a fall required a surgical repair. Orthopedic surgeon Umer R. Dasti, MD, performed the operation at The Valley Hospital in Ridgewood on a Saturday afternoon. Ms. O'Neill was up and walking by 9 a.m. the next morning and was admitted to The David F. Bolger Post-acute Care Unit (PACU) at CHCC two days later. Here, physical therapy centered on walking and exercising on a seated elliptical machine and an arm bike. Occupational therapy focused on balance and upper-body strength.
"Endurance is very much governed by upper-body strength, so the therapists helped me with endurance," Ms. O'Neill says.
Her physical and occupational therapy took place in the new 14,000-square-foot Bolger Gym & Wellness Center. State-of-the-art equipment, an indoor walking track, and a variety of exercise gear supplement physical therapy. Occupational therapy is enhanced in the Transitional Care Suite. This area, which includes a kitchen/dining area, family room, laundry room, bedroom, and bathroom, affords privacy and a home-like feel.
"The new gym is very efficient, and the therapists are not only knowledgeable and hardworking, but they are also compassionate," she says.
Ms. O'Neill's rehabilitation therapists were members of her multidisciplinary team, which included clinicians, dietitians, social workers, activities staff, and chaplains. Individuals like Ms. O'Neill requiring short-term rehab following surgery are just a portion of the patient population. Others who may also benefit include those who are recovering from a stroke, cardiac surgery or pneumonia; have a chronic illness, such as cardiac disease, renal disease, or diabetes; or have had a joint replacement.
Ms. O'Neill's health-care background prompted a unique appreciation of the care provided at CHCC. She was a staff nurse at Englewood Hospital and Medical Center and Kessler Institute for Rehabilitation, and a critical care nurse at Hackensack University Medical Center. She was on the staff of a tuberculosis clinic in Paterson and part of a team that opened a 60-bed facility in Newark for individuals with AIDS. She retired from that position and became a parish nurse.
While Ms. O'Neill has high praise for the care at CHCC, she has equal praise for the dining program.
"The PACU Dining Room provides an opportunity for socialization for patients. We can sit around a table, enjoy a meal, and talk to one another," the Prospect Park native says. "During breakfast and lunch, a chef cooks your meal right in the dining room. Everything is so fresh."
Following her discharge, Ms. O'Neill resumed volunteering as a facilitator at CHCC's monthly Faith & Grief Luncheons. Held from noon to 1 p.m. the third Wednesday of the month, these luncheons provide an opportunity for people dealing with grief and loss to share a meal and talk with others who are experiencing the same issues. Ms. O'Neill also was instrumental in helping to re-establish the Parish Nurse Ministry Forum, a half-day gathering at CHCC which provides support and professional enrichment to parish nurses.