Assistive Equipment in Occupational Therapy
After any significant injury, hospitalization, illness, or surgery, many patients struggle to perform basic tasks or self-care as they heal. Occupational therapy is designed to help patients improve or recover the skills needed to perform these tasks, otherwise known as activities of daily living, or ADLs, so that they can regain their independence and return to wellness.
"Our goal is always to make things as easy possible," said Erica LaGruth, Director of Rehabilitation at Christian Health. Through the efforts of our hardworking and skilled occupational therapists and the aid of a variety of assistive devices, our rehab patients can look forward to getting quickly back to the life they love.
What Are Activities of Daily Living?
Activities of daily living, or ADLs, are the basic activities you perform every day when living independently. These include:
Bathing
Dressing
Cooking and eating
Housekeeping
Using the toilet
The goal of occupational therapy is helping patients perform these essential tasks with less discomfort – not only to increase their independence but to limit the risk of any further injury.
Who Needs Assistive Equipment?
Anyone who has limited mobility or difficulty bending, reaching, lifting, twisting, sitting down, or standing up may benefit from assistive equipment. This may include patients living with or recovering from:
Significant arthritis
Orthopedic surgery
Hip or knee replacement
One-sided weakness after a stroke
Spinal cord injury
Multiple sclerosis
Types of Assistive Equipment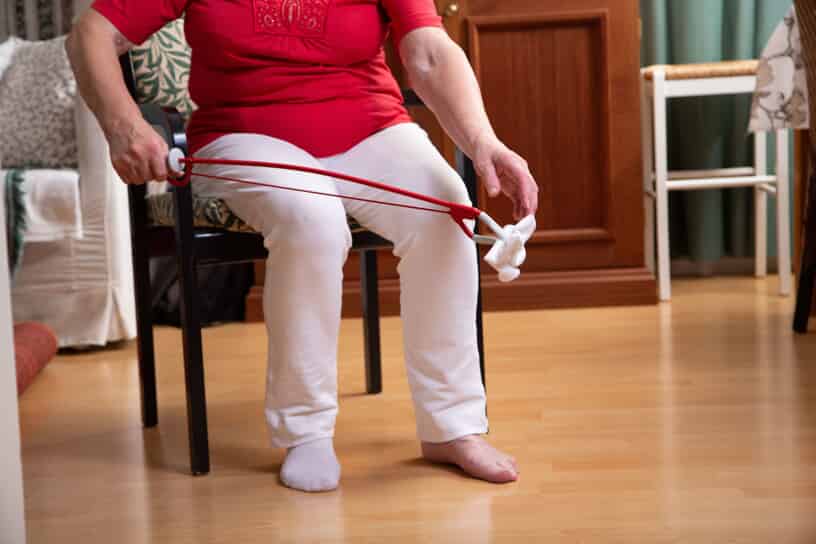 Reacher/grabber: A reacher, or grabber, is a long-handled device with a claw-like end and a trigger to open and close the claw around objects. It's used to retrieve items from the floor without bending or high places without reaching. It can also be used for assistance while dressing.
Dressing stick: This long device is equipped with a hook on one side and metal finger on the other to help with reaching clothes from a closet as well as pulling them on and off.
Sock aid: To use a sock aid, the user simply slides their sock onto a plastic tube, puts the tube on the floor, and uses the two long, braided straps to pull the sock onto their foot.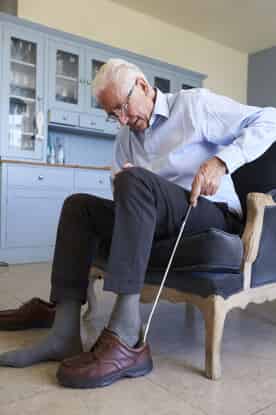 Long-handled shoehorn: The two-feet-long device allows the user to reach down to the back of their shoe while standing or sitting and without bending to get the shoe both off and on.
Shower chair: For stall showers, a seat can be installed so that someone with limited balance or mobility does not have to shower while standing.
Tub transfer bench: This bench is installed on the edge of the tub, half in and half out, allowing the user to sit on the outside of the bench and lift their legs carefully over the edge rather than climbing in or out, reducing the risk of a fall from the slippery surface.
Commode chair: A commode chair fits over the toilet to make the seat higher and offers bars for stability while getting on and off the toilet.
How Does Assistive Equipment Benefit Patients?
Assistive devices are an essential part of occupational therapy to help patients and clients return to their daily routine quickly without sacrificing their healing progress.
"It cuts down the amount of time it takes to complete a task and reduces discomfort while they complete self-care," said Erica. "It also supports caregivers. If someone can be more independent with a device, it's ideal for everybody involved."
At Christian Health's Bolger Short-Term Rehab and our Outpatient Rehabilitation, our occupational therapists assess our patients and clients and recommend devices based on their needs and capabilities. They are then thoroughly trained on all the recommended devices in a fully operational apartment setup.
Occupational Therapy at Christian Health
If you believe you or a loved one would benefit from occupational therapy, our skilled interdisciplinary team uses state-of-the-art, innovative approaches and equipment to help you achieve optimal independence, reduce your pain, and significantly boost your mobility.
To learn more about occupational therapy at Christian Health, please call (201) 848-5855 for inpatient rehab and (201) 848-5518 for outpatient rehab.