Why Compassionate Care Matters: Inpatient Treatment at Ramapo Ridge Behavioral Health
Seeking treatment can be difficult and scary for those living with a mental health issue – especially inpatient treatment. Many patients deal with a mental health condition for months or years, struggling to find relief in other forms of treatment before turning to inpatient treatment. Others are dealing with a new mental health issue that has significantly disrupted their routine and feeling unsure of where to turn. Ramapo Ridge Behavioral Health, Christian Health's inpatient hospital, is dedicated to normalizing mental health treatment for all who need it by providing compassionate, gentle care in a welcoming, nonjudgmental setting.
Our philosophy for over 100 years has been to foster wellness by treating each person in our care as an individual – understanding and empathizing with their unique needs, supporting their journey, and helping them feel that they are never alone.
"This is what has always set Christian Health apart," said Alexis Totaro, Vice President and Administrator of Mental Health Services at Christian Health. "For behavioral health care to be effective, it must be rooted in compassion. We provide a safe, therapeutic place for patients to stabilize and learn coping skills so that they are able to thrive after they leave."
Why Compassion Is Important in Inpatient Care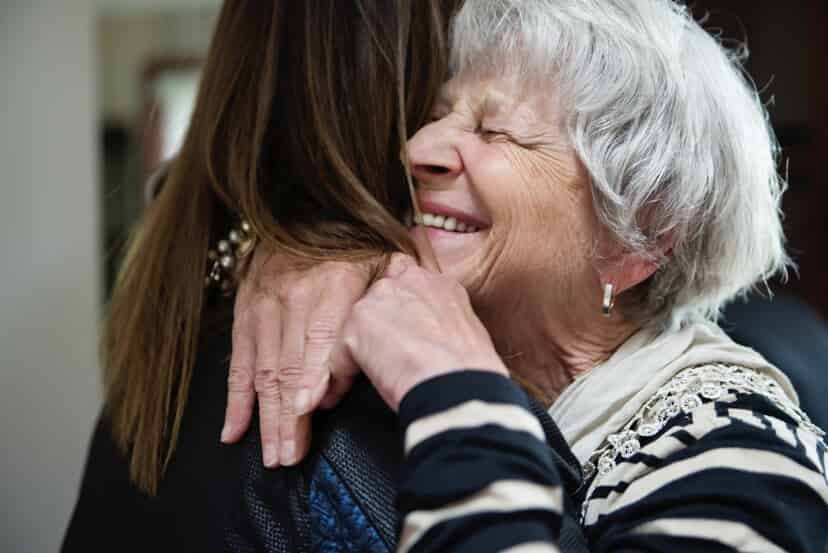 Inpatient mental health hospitals are often inaccurately thought of as cold, sterile places for patients with extreme behavioral disturbances. However, a diverse range of individuals living with various conditions or degrees of symptoms can benefit from inpatient treatment – in a safe, therapeutic environment with helpful, trained providers. And while showing compassion for your patients is always crucial in health care, it may be even more so when treating mental health, for several reasons.
The Stigma
Mental health care, particularly inpatient treatment, unfortunately carries a harsh stigma. Many people with mental health issues are afraid to seek care – that can sometimes be lifesaving – because they fear judgment from loved ones, their employer, and society as a whole. Offering care in a nonjudgmental, safe space can help patients feel as if they're not alone, encouraging them to continue their treatment until they improve without worrying about how they are perceived.
The Journey
Mental health care is often a lifelong process – some patients have been living with their mental health issues for years before seeking treatment at an inpatient hospital or have tried several different care modalities, medications, or providers. Symptoms may come and go, worsen or improve, or change throughout a patient's care journey. Treating patients with compassion helps them feel supported in this process, ensuring they don't get discouraged and that they continue to receive treatment as they need it. Behavioral health treatment differs from other types of health care because it's much more relationship-based – a little trust along the journey goes a long way.
The Recovery
Recent research shows that compassionate care yields better outcomes for patients. When the provider treating you does so with genuine concern rather than clinical indifference, you are more likely to relate to them, feel safe, and feel heard. This leads to greater patient satisfaction, better treatment results, and an overall more-successful recovery.
Why Ramapo Ridge Behavioral Health?
Ramapo Ridge Behavioral Health is dedicated to providing loving, compassionate care to those living with a mental health issue in an inpatient environment. We strive to cultivate a supportive atmosphere that fosters calmness, security, and emotional wellness for each and every individual in our care in many ways.
We Provide a Safe Environment: Our commitment to compassionate care is evident in the therapeutic and nurturing environment in which we treat our patients. We offer our patients a place to gain peace – a comfortable, serene setting away from their mental health triggers, where they can focus on their journey to wellness.
We Offer Therapeutic Activities: Ramapo Ridge's diverse program of interactive and stimulating therapeutic activities encourages patients to be creative, express themselves, and actively participate in their own recovery. "Because therapeutic activities are nonthreatening, they allow our patients to be more open and honest," said Guylaine Mazure, Director of Activities at Ramapo Ridge. "They trust us more because we're not just telling them how it should be — we are guiding them to figure it out for themselves."
We Have an Interdisciplinary Team: Providing compassionate care is a skill in itself. Our specially trained team, which includes a psychiatrist, nurses and aides, social workers, activities therapists, and a dietician, work together to develop personalized care plans for each patient to target their unique needs – treating each person in our care as an individual.
We Have a Continuum of Care: Our commitment to compassionate care doesn't end with Ramapo Ridge. Christian Health's primary campus also includes LiveWell Counseling, our outpatient counseling center, and Gracepoint, our intensive outpatient partial-hospitalization program. This allows us to continue treating our patients on their mental health journey as they progress, cultivating relationships and ensuring they feel safe and supported every step of the way to wellness.
We're Joint Commission–Certified: Ramapo Ridge is certified by the Joint Commission in the diagnosis and treatment of dementia, a condition that requires the utmost compassion to effectively treat. We provide a specialized program for those living with behavioral disturbances caused by dementia, helping them to improve their symptoms and promote calmness through a variety of targeted activities and therapy.
Learn More About Ramapo Ridge Behavioral Health
If you would like to learn more about Ramapo Ridge and what compassionate care means to us, please call (201) 848-5500 or visit ChristianHealthNJ.info/RamapoRidge.