Ellsworth P. Whiteman Elected Chair of Foundation Board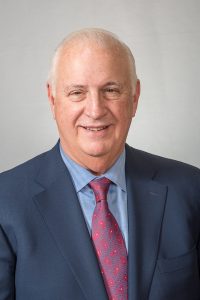 Ellsworth P. Whiteman of Ramsey was recently elected Chair of the Christian Health (CHCC) Foundation Board. A veteran of the CHCC Foundation Board of Trustees, making a difference is one of Mr. Whiteman's core values. Through his new role as Chair, Mr. Whiteman pledges to work diligently to foster support of CHCC so that the organization can continue to provide exemplary, compassionate care that evolves to meet community needs.
Mr. Whiteman joined CHCC in 2007 as a volunteer member of the operating board's Insurance Committee and was asked to join the Foundation board later that year. His knowledge and experience as President of Global Accident Health and Life for Aon Re Inc. insurance company made him a valuable asset to CHCC.
Mr. Whiteman, who has retired from Aon Re but remains a consultant, succeeds Gordon Stanley as Foundation Chair.
"Gordon is a hard act to follow in so many ways. Under his leadership, we refined the Foundation's mission statement, introduced many new board members, and set financial records for our key fundraising events," Mr. Whiteman says. "I'm stepping into his role with the Foundation board and staff at full strength, and for that I am grateful. My immediate goal is to keep our momentum going. We have a great team, and I'm confident that we will continue to exceed expectations."
Mr. Whiteman became familiar with CHCC when his mother-in-law resided at Heritage Manor Nursing Home for four years.
"I believe in the mission of Christian Health and have witnessed first-hand how support of the Center enhances the life of every resident, patient, client, and consumer. My wife Diana, who served on the Foundation's Events Steering Committee, and I were always appreciative of the loving care my mother-in-law received at this great facility," says Mr. Whiteman.
Mr. Whiteman acknowledges the challenges of fundraising in today's economic climate.
"The Foundation has a renewed focus on current trends in philanthropy, and how best to engage our donors to contribute their time, talent, and treasure," he says.
Mr. Whiteman is a longtime supporter of CHCC's Annual Golf Classic as a player and committee member. The Golf Classic has evolved in recent years to include a 90-minute outdoor yoga session, health and wellness presentation, and women's golf clinic, which doubled in registered participants in 2018. This year, CHCC will hold its 30th Annual Golf Classic on Monday, June 10, 2019, at Knoll Country Club in Parsippany.
In addition to CHCC, the Whitemans support Paterson Habitat for Humanity, Eva's Village, The Valley Hospital, and Ramapo-Bergen Animal Refuge.
For more information about the CHCC Foundation, upcoming events, or to make a donation, contact Sue Kelly at (201) 848-5799 or skelly@chccnj.org, or visit ChristianHealthCare.org/Foundation.
About Christian Health
CHCC provides a broad continuum of high-quality, compassionate care, offering superior senior-life, short-term rehab, and mental-health services. As a non-profit organization, we deliver Person- and Family-centered Care to our community based upon the Christian principles on which we were founded more than a century ago. For more information, visit ChristianHealthCare.org.