Douglas A. Struyk, Christian Health President and CEO, Named 2017 New Jersey Grassroots Champion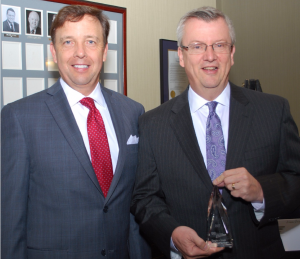 At its recent annual meeting, the American Hospital Association (AHA) named Douglas A. Struyk, CPA, LNHA, Christian Health (CHCC) President and CEO, a 2017 New Jersey Grassroots Champion. Each year AHA, in conjunction with the state hospital associations, recognizes one health-care leader from each state who most effectively educates elected officials on how major issues affect the critical role of hospitals and post-acute providers; helps broaden the base of community support for hospitals and post-acute providers; and is a diligent supporter for his/her institutions, patients, and residents. A longtime member of New Jersey Hospital Association's (NJHA) Board and Policy Development Committee, Mr. Struyk is a dynamic participant in federal advocacy efforts promoting New Jersey's health systems, hospitals, and post-acute providers. Mr. Struyk has been recognized as a reliable voice in the health-care industry by many of his colleagues in the field.
"Doug Struyk is a hands-on, boots-on- the-ground advocate for our healthcare community – health systems, hospitals, post-acute providers, and most importantly, the patients and residents of our facilities," said Betsy Ryan, President and CEO of NJHA. "I've watched him testify in Trenton and educate Congress members on Capitol Hill. He is tireless, knows the policy issues exceedingly well and is always motivated by compassion for those we care for. That's what makes him a true champion for healthcare in our state." "I am so pleased that the New Jersey Hospital Association has named Doug Struyk a 2017 New Jersey Grassroots Champion," said Gordon Meyer, Esq., Chairman, Christian Health Board of Trustees. "Doug is richly deserving of this honor for all of his tireless advocacy on behalf of healthcare, especially as it affects the most vulnerable population in our communities and throughout the state. His deep personal commitment to the mission of Christian Health and all those we serve coupled by his humble dedication to service leadership make him the ideal candidate for this distinct recognition."
For nearly 30 years, Doug Struyk has served Christian Health significantly impacting the organization's growth with the addition of numerous residences and programs including: Evergreen Court and Hillcrest for independent seniors, Southgate behavior-management unit, The Longview Assisted Living Residence, Christian Health Care Woodhaven of Wayne, the David F. Bolger Post-acute Care Unit (PACU) for both inpatient and outpatient short-term rehab with a massive renovation and expansion of its new 14,000 square foot Bolger Gym & Wellness Center, an addition to Ramapo Ridge Behavioral Health, and the acquisition of Siena Village in Wayne – a 250-unit independent affordable senior housing complex, and Summer Hill of Wayne in Wayne – a 164-unit independent affordable senior housing complex. The next major development for CHCC under Doug's leadership will be The Vista, a brand new Life Plan Community (or continuing care retirement community) with up to 199-apartments featuring 19 different floor plans, and a full array of amenities and community benefits. The Vista will be built in Wyckoff and Hawthorne. Christian Health provides a broad continuum of high-quality, compassionate care, offering superior senior-life, short-term rehab, and mental-health services. As a non-profit organization, we deliver Person- and Family-centered Care to our community based upon the Christian principles on which we were founded more than a century ago.
For more information, visit ChristianHealthCare.org.