Christian Health Earns National Award for Quality Care – One of Only Five in the Nation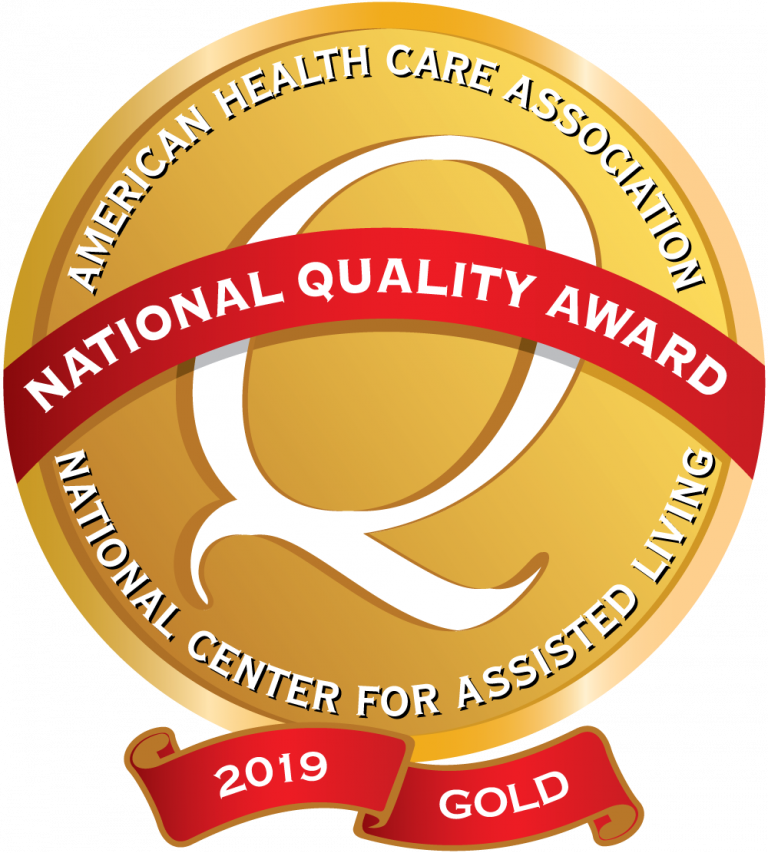 Christian Health (CHCC) has been recognized as a 2019 Gold – Excellence in Quality Award recipient by the American Health Care Association and National Center for Assisted Living (AHCA/NCAL) for superior performance in the long-term and post-acute care profession. The Gold award is the final stage of three distinct levels possible through the AHCA/NCAL National Quality Award Program, which recognizes organizations nationally that serve as models of excellence in providing high-quality care.
"As an organization long-committed to continuous quality assurance and performance improvement, we are extremely proud and excited to be recognized as a 2019 Gold award recipient for our Heritage Manor Nursing Home, including CHCC's post-acute care/short-term rehab, and The Longview Assisted Living Residence," said Douglas A. Struyk, CPA, LNHA, CHCC's President and CEO. "CHCC is the first and only recipient in the State of New Jersey to be recognized with the Gold distinction for skilled nursing since the award's inception two decades ago. Only one other New Jersey recipient shares the Gold recognition for assisted living with us. This award is a true affirmation of CHCC's commitment to excellence and quality on behalf of all those entrusted in our care."
CHCC is the only organization in Bergen County to be recognized with Gold, and one of only five providers nationwide to receive the 2019 Gold – Excellence in Quality Award. Having previously achieved both the Bronze and Silver Quality Awards, CHCC continued on the intense and arduous journey to reach the ultimate goal of Gold. Since the program's inception in 1996, AHCA/NCAL has recognized only 38 organizations—excluding this year's recipients—with awards at the Gold level.
"Christian Health has attained results that demonstrate it is the best-of-the-best of long- term care organizations in the country," said Alana Wolfe, Chair of the AHCA/NCAL National Quality Award Board of Overseers. "CHCC should be incredibly proud for achieving the highest honor of quality recognition in this field."
Based on the core values and criteria of the nationally recognized Baldrige Performance Excellence Program, the AHCA/NCAL National Quality Award Program challenges member providers to achieve performance excellence through three progressive levels—Bronze, Silver, and Gold. The Gold – Excellence in Quality Award is the most renowned of the program. At this level, recipients have invested years in mastering and applying the rigorous Baldrige Criteria quality standards to achieve superior results in the areas of leadership, strategic planning, customer and workforce focus, and operations and knowledge management.
AHCA/NCAL President and CEO Mark Parkinson commented, "The Gold Quality Award is the highest honor a facility can receive that recognizes its quality of care. These recipients are role models for our sector, and because of their years of hard work, dedication, and passion, they are improving and will continue to improve lives every day. This recognition is more than well deserved."
"This award is the pinnacle of the AHCA/NCAL National Quality Award Program," said Jon Dolan, Health Care Association of New Jersey's President and CEO. "Gold Award recipients serve as a model of excellence in providing the highest quality care to those who count on them. Despite enormous challenges from funding to regulatory and Medicaid reimbursement process delays, CHCC has distinguished itself nationally by earning this prestigious quality award and continuing to meet the highest standards each and every day in service to their residents and communities in New Jersey."
The awards will be presented during AHCA/NCAL's 70th Convention and Expo in Orlando, FL, October 13 to 16, 2019. For a full list of recipients, visit AHCA/NCAL's Quality Award website AHCANCAL.org/Quality_Improvement/Quality_Award/Pages/Recipients.aspx.
About Christian Health
CHCC provides a broad continuum of high-quality, compassionate care, offering superior senior-life, short-term rehab, and mental-health services. As a non-profit organization, we deliver Person- and Family-centered Care to our community based upon the Christian principles on which we were founded more than a century ago. For more information, visit ChristianHealthCare.org.
About The American Health Care Association and National Center for Assisted Living
The American Health Care Association and National Center for Assisted Living (AHCA/NCAL) represent more than 13,700 non-profit and proprietary skilled-nursing centers, assisted-living communities, sub-acute centers, and homes for individuals with intellectual and developmental disabilities. By delivering solutions for quality care, AHCA/NCAL aims to improve the lives of the millions of frail, elderly, and individuals with disabilities who receive long-term or post-acute care in our member facilities each day. For more information, visit www.ahca.org or www.ncal.org.