Generations Joining to Garden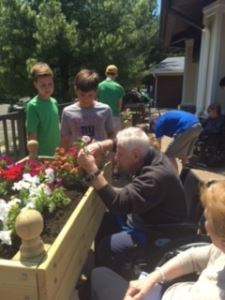 We recently welcomed several Boy Scouts to Heritage Manor Nursing Home. A local scout, Ryan Catania, approached the Center with the idea of constructing wooden planter boxes, as part of his Eagle Scout Service Project, for residents to enjoy. The proposed project was accepted by CHCC, and Ryan got to work!
Ryan, along with several other Boy Scouts, friends, neighbors, and family members, assisted in building the planters for the Heritage Manor patio. They brought in potting soil, and the flowers were graciously donated to CHCC by Goffle Brook Farm and Garden Center of Ridgewood. The Boy Scouts worked on a sunny Saturday morning and helped to plant the flowers along with Heritage Manor residents. The residents were delighted to look at the pretty flowers and to assist in planting them. The planter boxes will be enjoyed for many years to come by residents, staff, and visitors alike.
"The three planter boxes are absolutely beautiful, and have added a home-like atmosphere to our patio," said Linda Bunker, ADC, CHCC Director of Activities for Heritage Manor/Southgate. "The project offered an exciting opportunity for an intergenerational activity and working towards a common goal."
The Eagle Scout Service Project provides an opportunity for a Boy Scout, Varsity Scout, or qualified Venturer in the Boy Scouts of America (BSA), to demonstrate leadership of others while performing a project for the benefit of the local community. This is the culmination of the Boy Scout's leadership training, and it requires significant effort on the scout's part. The project must benefit an organization other than the BSA, but it cannot be performed for an individual or a business, or be commercial in nature. It is a requirement for a Boy Scout to attain the Eagle Scout Rank.