The Truth About Assisted Living in Bergen County
The decision to move into an assisted living community can be a difficult one. Many older adults fear that relocating to assisted living means giving up their autonomy, drastically changing the comfort of their routine, and leaving behind the home and life they love.
However, transitioning to the right assisted living community can actually be the beginning of an exciting new chapter, where you can leave behind the worries of home upkeep and other responsibilities and focus on what you love – enjoying your hobbies, spending time with beloved family, making new friends, and living a stress-free lifestyle.
If you are considering a move to assisted living in Bergen County, New Jersey, this is why Longview Assisted Living is right for you.
You Receive Only the Assistance You Need
Not every resident at Longview has the same care needs. The services at Longview are personalized for each individual so that they can customize their routine to maximize independence but still rest easy that aid is there when necessary. Longview's professional and friendly clinical team is available 24 hours a day, seven days a week to offer a variety of helpful services, such as medication management and assistance with daily tasks, like showering, dressing, and doing laundry. Also available are weekly housekeeping services with complimentary fresh linens and towels, delicious daily meals at the community's café, and emergency medical services.
You Are Still Independent
Many older adults worry about losing their independence after moving into an assisted living community. However, Longview encourages residents to stay active and maintain as much self-sufficiency as possible. The community's members are free to come and go as they please, do their own shopping, visit friends and family, and see their physicians. And while Longview offers a diverse calendar of exciting activities, festive socials, live entertainment, and off-site excursions, residents are never forced to participate. Residents can also bring their treasured belongings to decorate their private apartment to their personal tastes so that the space truly feels like their own.
It Will Feel Like Home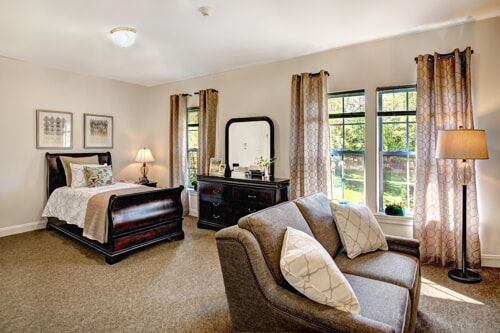 Leaving behind the comfort of your home is challenging. Many older adults fear moving to a retirement community because of worries that it won't feel homey and comfortable. However, Longview's meticulously manicured and lush grounds, cozy atrium with fireside seating, and charming lounges and sitting rooms help all residents and their visitors feel right at home as soon as they step through the door. Plus, you no longer have to worry about working hard to maintain that warm and inviting atmosphere – all the property maintenance that homeowners usually handle is taken care of for you.
You Can Still Spend Time With Loved Ones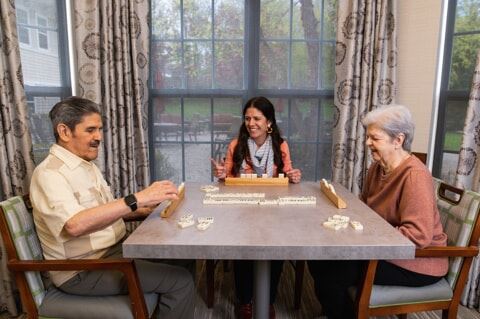 Many new assisted living residents fear they will be isolated from family and friends when they move into their new home. However, Longview welcomes visitors and even offers guesthouse lodging for loved ones who have to travel to visit. The community also provides a private family dining room for birthdays, anniversaries, and other celebrations so that you can gather with your loved ones and enjoy a meal.
Even if you don't have loved ones nearby to visit often, the team at Longview will ensure that you don't grow lonely – the lively community offers a wide array of fun social events and activities so that you can make new friends and enjoy a fun and active lifestyle.
Is Longview Assisted Living Right for You?
If you or your loved one are considering a move into an assisted living community in Bergen County, New Jersey, we would love to welcome you home to Longview. For more information about Longview Assisted Living or to schedule a tour of the community, please contact Victoria Durante, CALA, Admissions Director, at VDurante@ChristianHealthNJ.org or (201) 848-4303.