Resident of Hillcrest at Christian Health Received Proclamation from Wyckoff Mayor Kevin Rooney for Artistic Accomplishments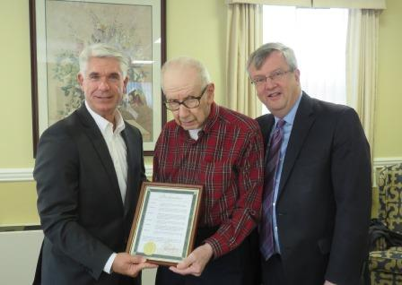 Pictured, from left, are Wyckoff Mayor Kevin Rooney, presenting a proclamation to artist and Hillcrest resident Alban Albert, and Douglas A. Struyk, CPA, LNHA, Christian Health President and CEO.
Hillcrest at Christian Health (CHCC) in Wyckoff has a resident artist among its ranks. Alban R. Albert worked in New York City and Columbus, OH, for many years in commercial design and advertising before focusing on the fine arts. Born in Paramus, Mr. Albert graduated with honors in 1956 with a bachelor's degree in art education from Ohio State University. He received his master's degree. from Montclair State College (now Montclair State University) after years of teaching. For many years, he was the head of the Ramapo Regional High School Art Department, where he was one of the first faculty members. In addition, he also served as an instructor at the Ridgewood Art Institute, where his work was recently exhibited at a retrospective honoring his talents. Mr. Albert's works are still part of private collections around the world.
Wyckoff Mayor Kevin Rooney recently presented a proclamation to Mr. Albert honoring his art work and teaching accomplishments. Mayor Rooney congratulated him on his many achievements and the impact he had on his school students and students he trained in private lessons. In addition to his work as an artist and teacher, he gave back to the community in many ways, including being a Boy Scout leader.
For more information on Hillcrest, contact Karen Hockstein at (201) 848-4463 or khockstein@chccnj.org.