Christian Health Care Woodhaven of Wyckoff Client is 106 Years Young!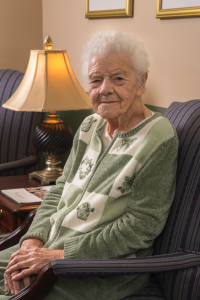 At age 106, Susie Rothwell is the oldest client ever to be admitted to Christian Health Woodhaven of Wyckoff, where she attends the program three days a week. A longtime former resident of Passaic, she currently lives in Hawthorne with her son, John Rothwell. The mother of 10 children, four sons and six daughters, also has 26 grandchildren and eight great-grandchildren.
About her experience at the adult day services program, she said, "I like it because it gets me out of the house. I like to be with people."
Her son John also appreciates the program because he can do errands without worrying about her being home alone, and he values the socialization aspect for her.
"She really enjoys being there," said Mr. Rothwell. "Since I live with her, I can't really bring anything new to the table. I can't 'girl chat,' so it gives her people to talk to and new things to do."
Mrs. Rothwell started working at the young age of 14. She worked in a handkerchief factory in Passaic, drove a school bus in Wayne and Oakland, cleaned houses, and babysat. She taught Sunday School for many years at the Franklin Lakes Baptist Church, where she is still a member. While she used to crochet, she said her main hobby is "to keep going!"
"She immediately befriended other clients at the program, who were shocked and admired her age and sharpness," said MJ Paulison, Christian Health Woodhaven of Wyckoff Assistant Administrator/Activities Director. "She is an inspiration. She has seen so much, experienced so much, and lost so much in 106 years, but her attitude is one of gratitude and faith. She also has a great sense of humor and otherwise a quiet demeanor, so she can really take you by surprise with her wit. She shows us every day how important faith, love, and humor are for a long and meaningful life."
What is Mrs. Rothwell's secret to her longevity?
"Holding on to God's hand," she said. "He leads the way."
Christian Health Woodhaven of Wayne and Wyckoff are medical and social programs designed to help seniors maintain independence and improve their quality of life, while also offering a welcome respite for caregivers. Clients are often individuals who live alone or with family. They may have a physical or cognitive impairment, be socially isolated, need assistance with personal care, or require minimum assistance to function independently. In a safe, friendly environment, participants can receive medical care, nutrition services, social services, pastoral care, and personal-care services. In addition, planned activities and recreational programs encourage socialization and engagement, both of which have been proven to help keep the mind sharp.
For more information on Christian Health Woodhaven of Wayne and Wyckoff, contact (201) 848-5200.