Christian Health Recipient of American Health Care Association Bronze Commitment to Quality Award … One of Two Honored in Bergen County
Christian Health (CHCC) in Wyckoff is the recipient of the American Health Care Association/National Center for Assisted Living (AHCA/NCAL) 2015 Bronze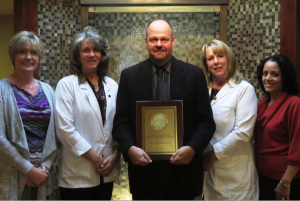 Pictured, from left, are Pamela Rooney, CALA, CTRS, ADC, The Longview Assisted Living Residence Administrator; Ellen De Bel, RN, The Longview/The Courtyard Health Services Director; Peter Peterson, LNHA, Heritage Manor Nursing Home/Southgate Vice President/Administrator; Nancy Mericle, RN, Heritage Manor/Southgate Nursing Services Director; and Victoria Durante, The Longview Admissions Director.
Commitment to Quality Award. This awards program recognizes long-term care and post-acute care facilities across the country that continuously strive for excellence in its quality improvement measures. Out of the nearly 400 long-term care facilities in the state of New Jersey, only 13 received the Bronze Award, and only two in Bergen County, one being CHCC.
The purpose of the Bronze Award is to provide facilities that apply with the resources needed to ensure continuous quality improvement. The awards program is open exclusively to members in good standing of the AHCA/NCAL.
"It is an honor to be the recipient of this prestigious award recognizing our outstanding quality efforts," said Peter Peterson, LNHA, Heritage Manor Nursing Home/Southgate Vice President/Administrator. "Christian Health has always set high standards in our quality performance initiatives, and this recognition is certainly evidence that our clinical staff works as a cohesive team and meets those high expectations."