COVID-19 Response and Resources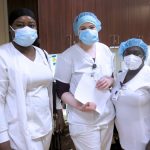 Christian Health (CHCC) takes extraordinary precautionary measures in providing care for the most at-risk population in our community. We have and will continue to implement all New Jersey Department of Health (NJDOH) and Centers for Disease Control and Prevention (CDC) guidelines and recommendations pertaining to COVID-19 prevention and control. We are committed to keeping everyone on our campuses and the community safe and healthy to the best of our abilities. We always have been, and we always will be. Thank you for your support and trust!
News and Updates
COVID-19 Vaccine Clinics
We have run successful clinics for distribution of the Pfizer-BioNTech COVID-19 vaccine to consenting CHCC patients, residents, and staff across our communities and campuses. We are thankful for our partnership with CVS and Walgreens for their handling of cold-chain management, scheduling, administration on-site, and tracking and reporting the vaccine.
We are excited to have the COVID-19 vaccine in our tool kit, but we remain steadfast in our commitment to safety and infection control measures across all of our campuses to ensure the health and safety of everyone in our community.
Press Release: First Doses of COVID-19 Vaccine Administered at Christian Health
Christian Health Medical Staff Vaccine Endorsement Letter
Visitation Update
CHCC is restricting visitation at Heritage Manor Nursing Home, The David F. Bolger Post-acute Care Unit, Southgate, The Longview Assisted Living Residence, and Ramapo Ridge Behavioral Health in an effort to aggressively safeguard and protect our residents, patients, and staff.
We recognize that visitation is important. We thank you in advance for understanding and honoring our careful decision to prioritize your loved one's health and safety.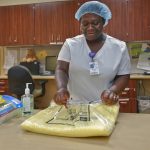 We will continue to connect families with their loved one through phone calls, texting, virtual visits, and window visits. To inquire about essential caregiver visits, compassionate care visits or end-of-life visitation, please contact your loved one's care team.
Program Closures
Christian Health Care Woodhaven of Wayne and Wyckoff remain closed until further notice.
Program-Specific Reporting
As of noon (EST), Monday, February 22, 2021, CHCC's current results for residents and patients in our care settings with a COVID-19-positive diagnosis are available below.
Heritage Manor Nursing Home is COVID-19 free.
Longview Assisted Living is COVID-19 free.
Southgate is COVID-19 free.
Ramapo Ridge Behavioral Health is COVID-19 free.
CHCC continues to support our acute-care partners to meet the community's health-care needs. Heritage Manor Nursing Home is accepting limited admissions from local acute-care hospitals. These new patients come to us for care in order to complete their recovery following hospitalization. They are tested before admission, upon arrival, and move into an established unit used to cohort individuals under investigation for or recovering from the virus.
Among the hundreds of employees across our long-term/post-acute care, and assisted living communities, there are currently no CHCC team members who are COVID-19 positive.
CHCC continues to be in full compliance with state-mandated regular testing of employees.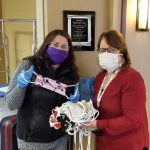 We are taking every precaution to prevent the spread of infection and safeguard everyone on our campuses. We value transparency and will continue to update this page, communicate directly to family members, and make ourselves available to answer questions.
Want to learn more about what we have been doing to protect our patients, residents, team members, and community at large? Read about how we deployed our pre-established emergency response plan as well as innovative new initiatives to address and control this unprecedented pandemic.
How You Can Help
Here are a couple of ways you can help keep members of your community – especially older adults – safe and healthy and support CHCC.
Donate - Help us address critical needs. Support CHCC's 2021 Annual Fund
Respect Visitation Restrictions - Senior-care residences are working hard to keep everyone safe and we need your support to do so. Use digital technology to virtually visit with older loved ones, neighbors, or other members of your community.
Make Smart Choices - Wear a mask, practice physical distancing, and be vigilant about hand hygiene. For more tips to prevent illness and keep your community safe, visit CDC.gov.
Phone Numbers and Resources 
Note In keeping with health-care facility regulations, CHCC is committed to safeguarding protected health information (PHI) and does not violate resident/patient HIPAA privacy and security standards. PHI is only shared with authorized individuals.