Simply Spring Event Raises Record-breaking $96,000 for Christian Health
Standing, from left, are Julie Holland, Christian Health (CHCC) Board of Trustees Assistant Treasurer; Mark Reitsma, CHCC trustee; Nancy Schuring, CHCC Foundation trustee; Gordon D. Meyer, Esq., CHCC Board of Trustees Vice Chair; Richard DeBel, CHCC Board of Trustees Chair; Carl Rizzo, Esq., CHCC Foundation trustees; John Plum, CHCC Foundation trustee; and Cynthia Bach, CHCC trustee. Kneeling, from left, are Douglas A. Struyk, CPA, LNHA, CHCC President and CEO, and Amy E. Shotmeyer, Esq., CHCC Foundation Board of Trustees Secretary.
Over 250 people attended the second annual Simply Spring event hosted by the Christian Health (CHCC) Foundation at Indian Trail Club in Franklin Lakes, NJ, on Thursday, March 21. Thanks to the incredible generosity of CHCC friends and supporters, the event and auction raised a record-breaking amount – over $96,000 – in support of CHCC Foundation's 2019 Annual Fund.
"Christian Health's history and founding dates back to 1911, from early beginnings by like-minded philanthropic community leaders," said Rick DeBel, Chair of CHCC's Board of Trustees and Senior Vice President at Wells Fargo. "It's truly humbling today to witness the community gathering at our event to share this significant anniversary celebrating 20 years of philanthropy, and the record-breaking success of funds raised for this year's Annual Fund."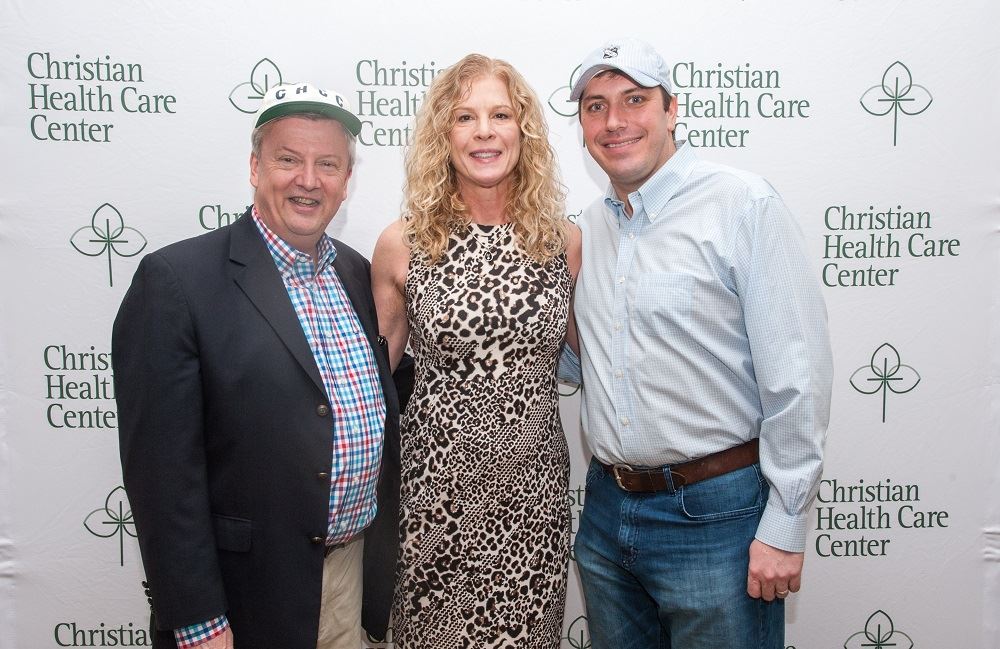 Pictured, from left, are Douglas A. Struyk, CPA, LNHA, CHCC President and CEO; Donna Fry, President, Valley Home Care; and Stephen J. Dumke, LNHA, FACHE, CHCC Executive Vice President and COO.
Simply Spring is a fun, casual, annual event featuring an online auction with nearly 80 items this year, a popular selfie photo booth, fine food, cocktails, and fellowship. This year's event theme was "Hats Off to the Past, Present, and Future," as the CHCC Foundation celebrates 20 years of philanthropy. Simply Spring attendees were encouraged to don their favorite hats so that they could tip their hats in unison to the past, present, and future during the program led by CHCC's MC, Bob Milligan.
"It was so exciting to celebrate our 20th anniversary!" says founding CHCC Foundation board member Ruth Wynbeek. "When we began in 1999, we had the goal of broadening our base of support. I am so thankful for the prayers and financial support of our community, as well as the dedication of our Foundation staff and board members as we strive to provide a compassionate and loving environment for all who receive our care."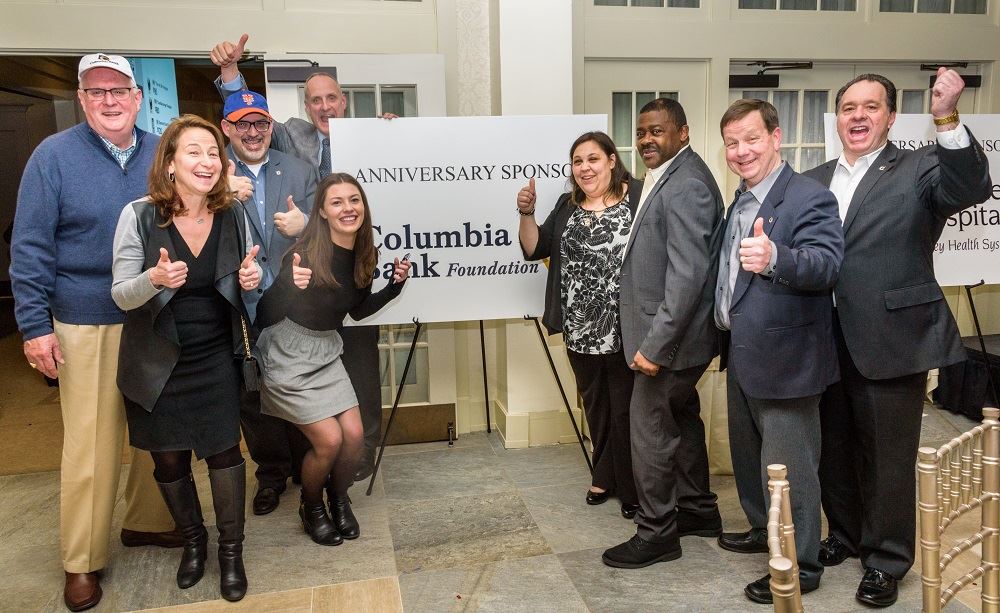 Pictured, from left, are Noel R. Holland, Columbia Bank Chairman of the Board; Allyson Schlesinger; Jim DiCerbo; Tom Kemly, Columbia Bank President and CEO; Allison Winters; Angela Mattina; Michael Campbell; Joseph Dempsey; and Richard Graff.
Columbia Bank Foundation and Valley Home Care were the event's top Anniversary Sponsors. Columbia Bank Foundation, one of the largest private foundations in New Jersey, has a mission that focuses on serving the needs of its local communities and is a long-time supporter of CHCC Foundation. CHCC and Valley Home Care share a strong commitment to providing excellent health care for their community. Valley Home Care also sponsored Simply Spring in 2018.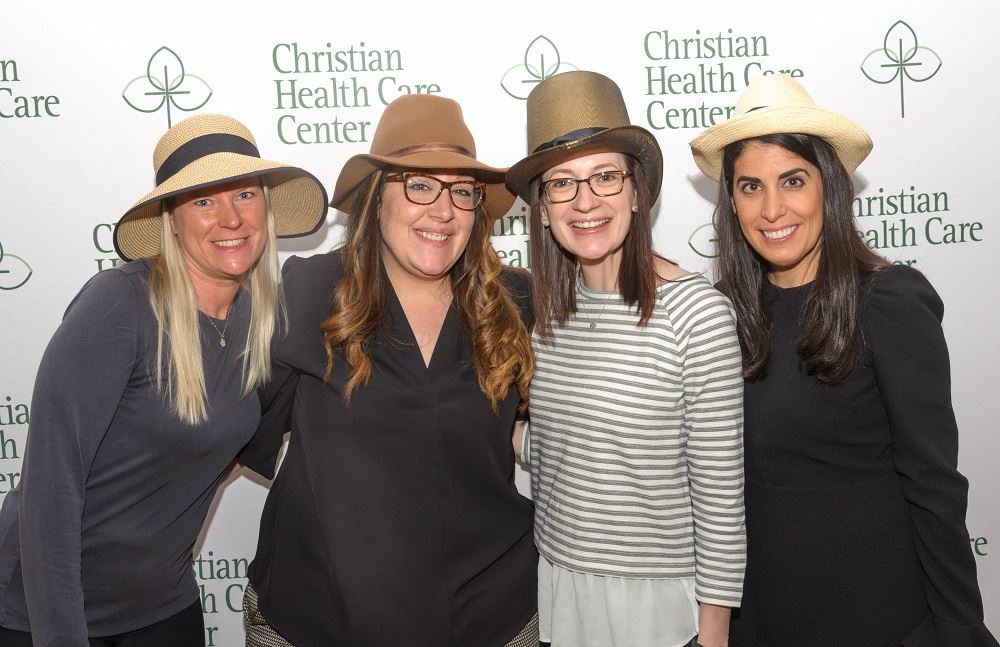 Pictured, from left, are Danielle Bolich; Nicole Layng; Kimberly Walsh; and Taylor Williams.
"I am truly humbled by the overwhelming generosity of our donors for this special celebration," said Douglas A. Struyk, CPA, LNHA, CHCC President and CEO. "For 20 years, the leadership and commitment of board members, coupled with the support and prayers of our community, have allowed us to raise and invest millions of dollars to grow and enhance our programs, services, and three campus locations to answer community need and deliver care excellence. So many lives have been changed through the blessings of health, healing and wellness."
The memorable event video included photos and memories from the past 20 years of Foundation events, highlights of the renovations and campus-wide updates made possible through two decades of philanthropy, and a fun montage of CHCC employees, volunteers, trustees, donors, friends, and vendors tipping their hats. The complete video and event photo gallery can be viewed at ChristianHealthCare.org/SimplySpring. Supporters can visit ChristianHealthCare.org/Donate to contribute to the 2019 Annual Fund.
About Christian Health
CHCC provides a broad continuum of high-quality, compassionate care, offering superior senior-life, short-term rehab, and mental-health services. As a non-profit organization, we deliver Person- and Family-centered Care to our community based upon the Christian principles on which we were founded more than a century ago. For more information, visit ChristianHealthCare.org.