Service Coordination Program Boosts Quality of Life for Seniors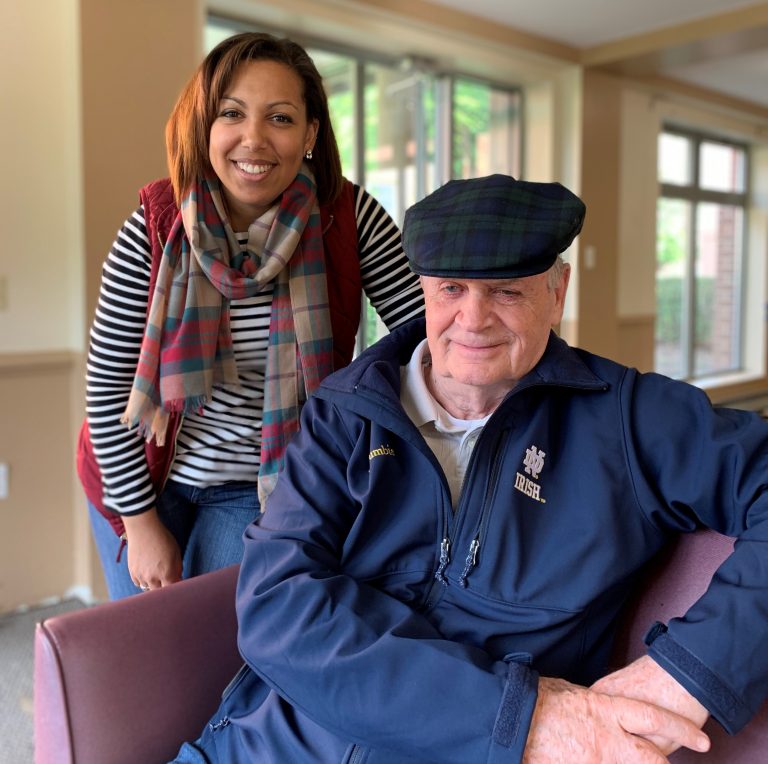 Joe Dodds has Stargardt' disease, a rare genetic disorder which has led to nearly total vision loss, but that doesn't deter the 78-year-old Siena Village resident. His positive outlook, combined with the benefits of Siena Village's Service Coordination Program, continue to boost the quality of his life.
The Service Coordination Program at Siena Village and Summer Hill of Wayne – Christian Health's affordable and fair-market senior-housing complexes in Wayne – is an extensive, complimentary, and voluntary benefit for residents. Seniors have access to information, services, lectures, resources, and referrals in relation to health, nutrition, financial and legal assistance, Passaic County senior services, transportation, and emotional guidance. Each complex has a designated Service and Activity Coordinator.
"Service Coordination Programs are government-mandated for certain types of senior communities, but not for Siena Village and Summer Hill of Wayne," says Laura Koblitz, Resident Director of both complexes. "We chose to establish the program to foster health, healing, and wellness by promoting independence and autonomy."
Through the Service Coordination Program, Mr. Dodds receives assistance with many tasks, from help with completing paperwork to adapting technological devices to address his needs.
"Joe relies heavily on text-to-speech apps on his phone and the computer. I have researched and installed helpful apps, assisted in activating new phones, and made sure that his devices are working properly," says Samantha Bruining, Siena Village Service and Activity Coordinator.
"I used to be very independent, but the blindness took a wiseguy and turned him into a humble man. I have to ask for help, which I don't like to do, but Samantha makes it easy," Mr. Dodds says. "Sometimes when you ask people for help, they make you feel like you're handicap. Samantha doesn't do that. She is excellent. She has helped me greatly."
Also through the Service Coordination Program, in conjunction with CHCC's Volunteer Program, Mr. Dodds benefits from the expertise of Microsoft staff. On a regular basis, some of the tech company's employees volunteer to provide complimentary training of smartphones, smartwatches, tablets, laptops, and computers for residents.
"A Microsoft representative specially trained in accessibility functions works with Joe exclusively," Ms. Bruining says. "The rep even visits on days when a training session is not scheduled at Siena Village just to help Joe if he has a specific need."
Resident need is one factor which dictates what programs are offered at Siena Village and Summer Hill of Wayne. Information is also cultivated through resident meetings, social interactions, staff observations, family inquiries, and voluntary health assessments.
"We are mission-driven, so we are committed to addressing the physical, emotional, and spiritual needs of residents," Ms. Koblitz says.
For more information about Siena Village and Summer Hill of Wayne, contact  (201) 897-5401.