Academy Award Nominee Kumail Nanjiani Slated as Special Guest at Christian Health's A Celebration of Excellence Gala
WYCKOFF, NJ – Christian Health's (CHCC) A Celebration of Excellence gala, which will be held on Wednesday October 17, 2018, at the Venetian in Garfield, will feature Academy Awards and Screen Actors Guild Awards nominee Kumail Nanjiani. The actor, comedian, and screenwriter will be a special guest to honor CHCC's Medical Staff and Atlantic, Tomorrow's Office. Mr. Kumail's father, psychiatrist Aijaz Nanjiani, MD, serves as the Medical Staff President.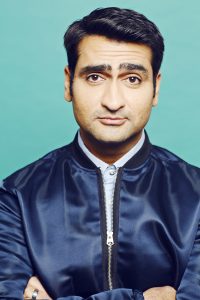 Mr. Nanjiani is best known for his role in HBO's Emmy-nominated series Silicon Valley, and his lead role in the semi-biographical film The Big Sick, which was nominated for multiple awards. Mr. Nanjiani is a winner of Critics Choice and Independent Spirit Awards, and is also noted for being the voice of Primso in the Emmy Award-winning animated television series Adventure Time.
"I know my peers on the Medical Staff share my excitement for this wonderful recognition from Christian Health," said Aijaz Nanjiani, MD, CHCC's Medical Staff president. "As physicians, our priority is the health, healing, and wellness of our patients. Christian Health shares our commitment to our patients and mirrors our drive for clinical excellence. We are truly humbled and honored to be recognized at A Celebration of Excellence. On a personal note, I am also honored that my son, Kumail, will be celebrating with me at this year's gala."
CHCC's Medical Staff, with 70 physicians representing a wide range of specialties, will be honored for their leadership and commitment to excellence for patients, residents, clients, and consumers. The doctors are dedicated to compassionate, detail-oriented, patient-focused care and to clinical excellence, as evidenced by CHCC's numerous awards, distinctions and accolades due in large measure to CHCC's physician leadership. Honors include:
Disease-specific Care Certification for Dementia from The Joint Commission for Ramapo Ridge Behavioral Health (RRBH is the only hospital in New Jersey to have earned this recognition),
Silver National Quality Award from the American Health Care Association and the National Center for Assisted Living for Heritage Manor Nursing Home, Southgate behavior-management unit, and The Longview Assisted Living Residence (CHCC was the only Bergen County organization to receive the Silver Award),
Five-Star Quality Rating from the Centers for Medicare and Medicaid, and recognition as one of the Best Nursing Homes in America by US News & World Report for Heritage Manor,
Advanced Standing status for six consecutive years from the Health Care Association of New Jersey and the New Jersey Department of Health, and 2017 Excellence in Action for Longview, and
Center of Excellence for Developmentally Disabled Behavioral Health Services designation according to National Council of Behavioral Health Standards for LiveWell Counseling.
Atlantic, Tomorrow's Office (ATO) was selected as a recipient for its unparalleled commitment not only to customer satisfaction, but also to the well-being of the community. Each year, Atlantic budgets $1,000,000 in donations to support non-profit organizations, including Christian Health, the National Kidney Foundation, UNICEF, The Fresh Air Fund, Make-A-Wish Foundation, Spectrum360 for children and young adults with autism, and St. Christopher's Inc., which helps children with special needs excel by providing necessary residential and clinical services. ATO has a major commitment to The Jillian Fund, an organization which provides financial support during a time of crisis for families with a critically ill child so the focus can be on supporting the youngster.
"Our Medical Staff and Atlantic, Tomorrow's Office exhibit a deep dedication to those we serve, with a standard of excellence that exceeds expectation. We are so proud to honor their service and dedication to CHCC and our communities," said Douglas A. Struyk, CPA, LNHA, CHCC President and CEO.
CHCC expresses gratitude for the steadfast generosity of its supporters. Major contributing event sponsors include Atlantic, Tomorrow's Office, Columbia Bank Foundation, Konica Minolta, Kuiken Brothers Company Inc., NJM Insurance Group, Patient Care Associates, PharmScript, Ricoh USA, Select Rehabilitation, and Toshiba USA.
This year's gala will feature a special tribute video and auction. For full event details, including ticket and sponsorship opportunities, visit: ChristianHealthCare.org/ACelebrationofExcellence or contact (201) 848-5796 or events@chccnj.org.
###
About Christian Health
CHCC provides a broad continuum of high-quality, compassionate care, offering superior senior-life, short-term rehab, and mental-health services. As a non-profit organization, we deliver Person- and Family-centered Care to our community based upon the Christian principles on which we were founded more than a century ago. For more information, visit ChristianHealthCare.org.