29th Annual Golf Classic Breaks Record, Raising over $150,000 for Annual Fund
WYCKOFF, NJ – Christian Health's (CHCC) 29th Annual Golf Classic was held on Monday, June 11, at Knoll Country Club West. The event raised more than $150,000 – the most successful Golf Classic in its 29-year history.
A fun day of golf, yoga, and an awards and dinner program, including a special video presentation to support CHCC's mission and 2018 Annual Fund, was enjoyed by 133 golfers, 17 yogis, 20 volunteers, and more than 40 guests.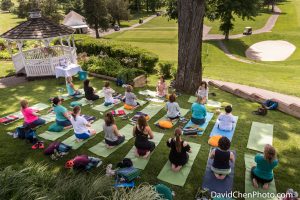 Rick De Bel, CHCC Board of Trustees Chair, shared, "We were blessed to have an absolutely spectacular day to gather as a community of supporters of Christian Health. We are very thankful for all of the participants and sponsors of our most successful Golf Classic yet and we are already looking forward to next year's event. It will be our 30th Golf Classic, a significant milestone, so I'm sure it will be a real celebratory outing!"
Event sponsors included Atlantic, Tomorrow's Office; Kuiken Brothers Co. Inc.; Patient Care Associates; Pharmscript; W.B. Mason; Windels Marx Lane & Mittendorf LLP; Ziegler; Carrier; Lecesse Construction; New Jersey Respiratory Associates; North Jersey Trailer & Truck Services Inc.; Regency Wealth Management; Shotmeyer Bros.; Wayne Tile; Inserra Supermarkets; and NJ Mobile HealthCare.
Unique to CHCC's annual Golf Classic is the yoga, health and wellness presentation, and women's golf clinic, which doubled in registered participants this year. A customized 90-minute outdoor yoga session overlooking the fairway was provided by Michele O'Shea, owner of O'Shea Yoga in Wyckoff.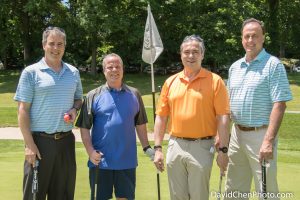 "CHCC's Golf Classic is such an enjoyable and special outing," said Douglas A. Struyk, CPA, LNHA, CHCC's President and CEO. "Everyone who participates does so with great enthusiasm, knowing that the true beneficiaries are those we serve at Christian Health. I am personally humbled with the outpouring of support at this year's outing."
The successful event was organized with the support of volunteers from the Golf Classic Committee led by co-chairs Rick De Bel of Lincoln Park, CHCC Board of Trustees Chair, and Edward Nieuwenhuis, DPM, of Wyckoff. Committee members included Darcy Bickert of Midland Park; John Gunther of Glen Rock; William J. Haggerty of Glen Rock, CHCC Foundation Board Vice Chair; Sue Kelly of Ridgewood; Don and Marion Klingen of Wanaque; Julie Lee of Mahwah; Gordon Stanley of Wyckoff, CHCC Foundation Board Chair; and Ellsworth Whiteman of Ramsey.
A photo gallery of highlights from the day of golf, health and wellness, and the winners can be found at ChristianHealthCare.org/Golf or Facebook.com/CHCCNJ. To watch the special video presented during the dinner program, please visit bit.ly/GolfClassicVideo. To support CHCC's 2018 Annual Fund visit ChristianHealthCare.org/Donate.
About Christian Health
CHCC provides a broad continuum of high-quality, compassionate care, offering superior senior-life, short-term rehab, and mental-health services. As a non-profit organization, we deliver Person- and Family-centered Care to our community based upon the Christian principles on which we were founded more than a century ago. For more information, visit christianhealthcare.org.
CONTACT: Kelly Tanis | (201) 848-5921