CHCC helps young professionals grow in Undergraduate Summer Internship Program
Christian Health (CHCC) is committed to developing the next generation of professionals who want to make a difference in the lives of others by choosing a career in health care. The CHCC Undergraduate Summer Internship Program provides students with a chance to explore career interests through targeted work assignments, mentoring, job shadowing, and a lecture series. This program provides participants with the opportunity to complete a seven-week unpaid, non-clinical internship in various departments throughout CHCC. Internships provide invaluable opportunities to be involved in meaningful work and projects, attend educational sessions, and participate in networking with other interns, clinicians, and senior leaders.
The CHCC Undergraduate Summer Internship Program is open to students currently enrolled full-time in a four-year undergraduate program who:
completed at least two years of a four-year college and have taken general classes in the area of internship;
have a cumulative GPA of 3.0 or better;
have a career interest in the health-care industry;
are available from 11 a.m. to 1 p.m. Mondays to attend mentorship and education series; and
present their project on Monday, July 30, to CHCC staff.
This summer, CHCC welcomed eight college students in the 2018 program:
Katherine Dalvano of Wyckoff, NJ, a junior at Wake Forest University in Winston-Salem, NC, majoring in sociology with minors in art history and bioethics, humanities, and medicine;
Abbie Wostbrock of Midland Park, NJ, a junior at James Madison University in Harrisonburg, VA, majoring health-services administration with a minor in business;
Komal Desai of Parsippany, NJ, a senior at Rutgers University in New Brunswick, NJ, majoring in health administration and human-resources management;
Kristen Sileo of Park Ridge, NJ, a senior at Loyola University in Baltimore, MD, majoring in speech-language hearing sciences;
Brianna Cheringal of Upper Saddle River, NJ, a senior at the University of Vermont in Burlington, VT majoring in psychological science;
Subin Lee of River Edge, NJ, a senior at Ramapo College in Mahwah, NJ, majoring in nursing;
Bradly Taylor of Fair Lawn, NJ, a senior at Sacred Heart University in Fairfield, CT, majoring in sociology; and
Diana Lovermi of Fair Lawn, NJ, a senior at Stockton University Galloway Township, NJ, in majoring in health sciences with a concentration in pre-communication disorders.
All of our interns are local residents from Morris and Bergen Counties. CHCC interns took part in a full-day orientation at the DeYoung Auditorium, where they learn about CHCC's mission and vision, history, pastoral care approach, service to excellence, patient and resident rights, Person-and-Family-Centered-Care, and a campus tour. CHCC activities intern Katherine Dalvano shared her eagerness to start the program.
"I'm excited to learn about the health care industry and to work with residents with dementia," Katherine said. "I'm able to do hands on work with the residents which is really interesting and rewarding."
Katherine's supervisor, Linda Bunker, ADC, is extremely pleased with her work and contributions to the activities department.
"Katherine has made big strides in helping us to develop a structured music therapy program for the residents in Heritage Manor," Ms. Bunker said.  "Katherine's research on the benefits of music therapy along with her ability to connect with our residents through music has been of great value to our person-centered focus."
CHCC's interns partake in weekly lunch-and-learn educational sessions on Mondays, which feature prominent speakers in the health care industry. Topics include the future of health care, resume writing and interviewing skills, and a "What I Wish I Knew After College" discussion. These mandatory seminars are designed to prepare interns for success in their future careers. Person-and-family-centered-care (PFCC) intern Subin Lee was very excited to attend our PFCC lunch-and-learn.
"I would like to learn how to think and look from patients and residents' perspective at CHCC. This will help my career in nursing later on," Subin said.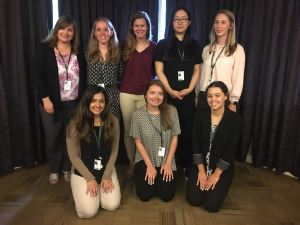 Each intern can find a relatable topic in these lunch-and-learn meetings. Also unique to the intern program is one-on-one supervisor/intern dynamic. Each intern is designated one supervisor throughout the seven week period to help guide them as they work on department specific projects. This guidance is mutually beneficial because interns also teach their supervisors new innovative ways to approach tasks. Blain Bradley, Marketing Associate, has learned new ways to look at the health care industry thanks in part to his intern's background as a health care administration major.
"Our marketing intern Abbie has really opened my eyes to the business side of health care," Blain said. "My background is more in traditional corporate marketing and business, and I just recently started my career at CHCC. As I help Abbie learn the ins and outs of general marketing, she helps me learn more about the health care industry. It's a win-win partnership!"
CHCC interns prepare for their final presentation by developing compelling final projects through various presentation sources such as Power Point and Prezi. Each presentation is roughly five to seven minutes in length, and comprises of various projects and achievements the interns have made over their time at CHCC. Final presentation are set for July 30, in the DeYoung Auditorium. This year, CHCC expects attendance to be around 30 individuals, including executive staff and internship supervisors.
For information about the 2019 Undergraduate Summer Internship Program, contact Eileen Walker at ewalker@chccnj.org.