Christian Health Brings on New CIO to Advance Technological Development
WYCKOFF, NJ – Christian Health (CHCC) is leading the way in health-care technology with Edward Rizgallah, PMP, as its new Vice President of Information Services (IS) and Chief Information Officer. Mr. Rizgallah brings nearly two decades of IS experience, including his more recent role as a Senior Project Manager with Oneview Healthcare overseeing projects with clients such as New York University.
Mr. Rizgallah heads a team of dedicated, innovative thinkers in CHCC's IS department. When asked about his goals for the department, Mr. Rizgallah stated that he is looking forward to improving upon CHCC's already-vast network of technology, operability, infrastructure, and cyber-security system.
"Technology here directly impacts those entrusted to our care," Mr. Rizgallah says. "Personal computers, laptops, tablets, smartphones, and smart TVs, combined with cutting-edge architecture, wireless connectivity, and stringent security measures, enable more than 900 employees to deliver unparalleled, uninterrupted care throughout CHCC's three campuses in Wyckoff and Wayne."
The IS team at CHCC services a network of 2,300 individuals, including residents, patients, consumers, staff, physicians, and volunteers, on a daily basis. Mr. Rizgallah's leadership of the IS team delivers hands-on and immediate support for CHCC's myriad of programs, services, and residents, with their technological expertise. Whether it is protecting the private information of patients at Ramapo Ridge Behavioral Health or advancing technology for the betterment of the 800-plus residents spread throughout CHCC's three campuses, IS has become an integral part of CHCC's approach to offering an outstanding patient/resident experience.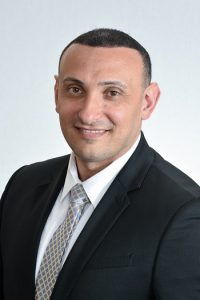 "In the short time Edward has been here, he has brought a tremendous amount of energy, expertise, and experience, as well as an organizational and logical approach, to all issues that he and his team encounter," says Kevin A. Stagg, CHCC's Executive Vice President and Chief Financial Officer, who oversees the IS department. "His positive and professional manner have made him a natural fit at CHCC and pleasure to work with."
CHCC's sophisticated and complex system of independent living, assisted living, memory care, skilled nursing, short-term rehab, and full spectrum of mental-health care requires an astute and secure adherence to the guidelines of Health Insurance Portability and Accountability Act and Protected Health Information.
Mr. Rizgallah's strategic planning, product development and implementation skills, and analytical mindset have already greatly benefitted CHCC's mission. Mr. Rizgallah is committed to upholding CHCC's integrity, and the privacy of residents and patients by advocating for safe information storage.
As technology continues to develop, so does CHCC's pace to be a leader in technological advancement in the health-care industry.
For more information about senior-life, mental-health, and short-term rehab services at CHCC, visit www.ChristianHealthCare.org, or call (201) 485-6581.
###
About Christian Health
CHCC provides a broad continuum of high-quality, compassionate care, offering superior senior-life, short-term rehab, and mental-health services. As a non-profit organization, we deliver Person- and Family-centered Care to our community based upon the Christian principles on which we were founded more than a century ago. For more information, visit ChristianHealthCare.org.