The Vista Has it All!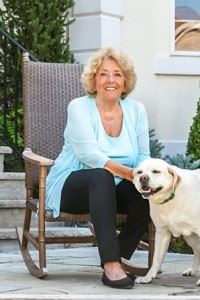 To Barbara Phillips, The Vista, Christian Health's (CHCC) new continuing care retirement community, will have it all.
"The Vista will offer socialization, comfort, and safety," says the 76-year-old. "And the fact that it's in Wyckoff, where I lived for almost 35 years, makes it perfect. I will be close to my family and friends."
The Vista will be a unique community on CHCC's Wyckoff campus for active, independent adults 62 and older. Up to 199 spacious, one-level apartments with one or two bedrooms will be available in a variety of 19 different floor plans.
"I love that The Vista will look more like a resort hotel than an apartment building," Mrs. Phillips says.
While The Vista will be intimate in scale, residents will enjoy abundant amenities. Features will include a fine-dining restaurant and casual café, state-of-the-art fitness center, aquatic center, spa and salon services, Cultural Arts Center, social events and educational programs. Residents will also benefit from CHCC's range of health-care resources and the security of knowing that a full continuum of care is available, if needed.
Residents like Mrs. Phillips, who make a 10-percent deposit in advance of the anticipated opening in fall 2018 become members of The Vista Vantage Club. Members benefit from locking into pre-construction pricing. They also are invited to special events designed so they can get to know their neighbors-to-be and be kept up-to-date on progress.
Mrs. Phillips learned about The Vista from a friend. As she was passing The Vista Information Center shortly thereafter, she stopped in. Her house in Mahwah was challenging to keep up since her husband, the late Norman Dewey Phillips, DDS, passed away in 2005. The couple moved to Mahwah in 2000, after residing and maintaining a dental practice in Wyckoff for 35 years. Mrs. Phillips worked at the front desk in her husband's office. Today, she works part-time at Phillips Dentistry in Wyckoff, the practice of her sons Glenn Phillips, DMD, and Andrew Phillips, DMD, who followed in their father's footsteps.
"My Mahwah house is bigger than I need, and it can be very quiet and lonely. If I don't go to work at my sons' office, I wind up talking to Dixie, my dog, all day," Mrs. Phillips, says. "At The Vista, I'll be able to mingle. Even if I sprain my ankle, I'll be able to step outside my door and socialize. I'll eat healthier, too, with so many dining options, and I like the fact that there will be a fitness center right on site."
The Vista's location on a quiet ridge overlooking the Ramapo Mountains also attracted Mrs. Phillips.
"When I selected my second-floor apartment, I looked at where the sun would go down. I like the afternoon sun. That was my determination," Mrs. Philips says.
As a longtime Wyckoff resident, Mrs. Phillips is familiar with CHCC. One of her husband's patients was a Heritage Manor Nursing Home resident and several friends are current and former employees.
"I always knew that Christian Health has the best reputation," she says.
The carefree lifestyle of The Vista will enable Mrs. Phillips to enjoy more time with her sons and their wives; daughter Lisa, a private banker; seven grandchildren; and five dogs and one cat among the entire clan.
"I'm looking forward to The Vista lifestyle," she says.
The Vista Information Center is located at 525 Cedar Hill Ave., Cedar Hill Plaza, Wyckoff, NJ. Call (201) 848-4200 or email Live@TheVista.org to make an appointment today.