Perfect Timing for Short-term Rehab
Timing, as the Saying Goes, is Everything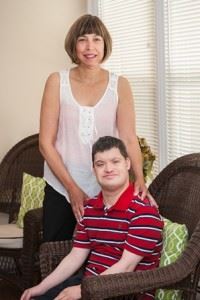 When Andrea Babasade needed to select a post-acute care facility for her adult son Steven following hospitalization for bilateral pneumonia, the Wyckoff resident had recently come across an advertisement for Christian Health's short-term rehab unit.
"I was given a list of facilities, and Christian Health (CH) was on it. I had just seen an ad for the Center's short-term rehab unit, and a person recovering from pneumonia was included among the list of those who could benefit from rehab following a hospitalization." Ms. Babasade says. "The Center has an excellent reputation, and I know people who received care on the short-term rehab unit. I was very happy that we came here."
Steven who has Down syndrome, was in intensive care for much of the time that he was at The Valley Hospital in Ridgewood. His bilateral pneumonia was so severe that it required the use of the RotoProne Therapy System for 32 hours. This special bed helps aggressively treat patients with severe pulmonary complications by lifting weight from the lungs and allowing more oxygen into the bloodstream.
When the 37-year-old arrived at CH, his strength was severely diminished and he required oxygen. His physical, occupational, and speech therapists created a rehab care plan which focused on improving strength, balance, and verbal communication.
"The therapists worked in conjunction with one another to ensure consistency because consistency is very important for a person with Down syndrome," Ms. Babasade says.
Rehab therapists are members of the short-term rehab multidisciplinary team, which includes clinicians, dietitians, social workers, activities staff, and chaplains.
"The staff was so professional and so kind to Steven," Ms. Babasade says. "They showed him so much love."
Individuals like Steven requiring short-term rehab following hospitalization for pneumonia are just a portion of the patient population on The David F. Bolger Post-acute Care Unit. Others who may also benefit include those who are recovering from a stroke or cardiac surgery; have a chronic illness, such as cardiac disease, renal disease, or diabetes; or have had a joint replacement.
Steven's physical and occupational therapy primarily took place in the 14,000-square-foot Bolger Gym & Wellness Center. State-of-the-art equipment, an indoor walking track, and a variety of exercise machines supplement physical therapy. Occupational therapy is enhanced in the Transitional Care Suite. This area, which includes a kitchen/dining area, family room, laundry room, bedroom, and bathroom, offers patients a chance to relearn daily activities in a safe, private environment, under the guidance of their therapist. The design replicates the comforts of home, as well as the challenges found at home following a hospitalization.
"Steve progressed so much at Christian Health. I more than like the Center – I love it!" Ms Babasade says. "If he ever needs short-term rehab again, I would bring him back to CH."
For more information about short-term rehab, call (201) 848-5911.