CHCC Welcomes New Executive Vice President/COO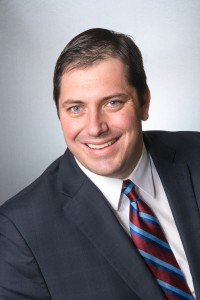 Stephen Dumke, LNHA, FACHE, credits his career in health care to equal parts predestination, a desire to make a difference, and a strong faith.
"I didn't set out with the goal of entering health care. What I did know is that I wanted to go into a field in which I could make a difference and impact peoples' lives. I feel that I was called to work in this field and use my skills and talents to try to make things better for people of all ages," he explains. "Growing up as a pastor's son, I was very involved in the church and ministry. That's in my foundation, in my roots. The fact that Christian Health (CHCC) is a faith-based organization was one of the key reasons that I humbly accepted the invitation to join the organization as the new Executive Vice President and Chief Operating Officer."
In this position, Mr. Dumke's oversees all operations throughout CHCC, ensuring that care remains at an outstanding level and that resident, patient, client, consumer, and family satisfaction exceeds expectations.
"This is accomplished," he says, "by continually striving to improve processes and by ensuring that current and future services address not just physical needs, but emotional and spiritual as well."
Mr. Dumke was previously Vice President and Chief Operating Officer of Lutheran Homes Society (LHS) Inc., headquartered near Toledo, Ohio. LHS, a non-profit Christian ministry more than 150 years old, offers a continuum of senior-living and youth mental-health services. The Ohio native holds a bachelor of arts from Bowling Green State University and a master of business administration from the University of Toledo. He is a Licensed Nursing Home Administrator and a Fellow of the American College of Healthcare Executives.
"Christian Health and LHS are very similar in their focus on providing quality care and services consistent with the Christian values on which they were founded, so I can easily relate to our mission and values here," he says.
While the CHCC mission was of utmost importance to him, Mr. Dumke was also captivated by several other factors.
"During my first visit, I was instantly impressed with the facilities and beautiful campus.  It was clear that a great deal of care and attention to detail go into the upkeep and appearance of the campus buildings and grounds. As I toured, everyone was very positive, friendly, and welcoming. It was evident that CHCC has a strong culture of caring and that employees and volunteers are really devoted to the Center and those they serve. Later, I met with members of the leadership team and was impressed with their knowledge, passion, and dedication," he says. "Ultimately, I could sense that Christian Health Care center is truly a great organization, and I was honored to be presented with the opportunity to join the team."
To date, he's found the health-care industry in New Jersey to be very similar to that in Ohio.
"Understanding how to navigate changes in reimbursement and regulatory requirements while still providing high-quality care is a challenge throughout the country, but is also an exciting opportunity," Mr. Dumke says. "For a high-quality provider like CHCC, it's an opportunity to differentiate our services from other providers and show how we positively impact peoples' lives each and every day."