Christian Health Care Woodhaven of Wayne Celebrated St. Patrick's Day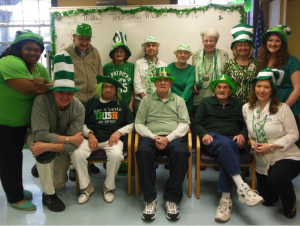 Pictured, front row, from left, are Tenneil Cole Brown, CNA/Driver/Activities Assistant and resident of Paterson; David George, Bus Driver and resident of Wayne; Christian Health Care Woodhaven of Wayne clients Charles D'Angelo of Clifton, Claud Goodwin of Wayne, and Anthony D'Ambrosio of Clifton; and Aimee Restifo, LCSW, Administrator/Social Worker. Pictured, back row, from left, are Christian Health Care Adult Day Services clients Steven Klinkowize and Bertha Conoscienti, both of Clifton, Maria Lagala of Wayne, Margaret Wysocki of Nutley, Pamela Griffin of Wayne; and Jamie Crowell, RN-BC, Nursing Director and resident of Kinnelon; and Teela Ferriola, Assistant Administrator/Activities Director and resident of Oak Ridge.
Christian Health Woodhaven of Wayne recently celebrated St. Patrick's Day in style! The two-day celebration began with a St. Patrick's Day service led by Sister Lois Kikkert, OP, Pastoral Care Representative from Siena Village, A Christian Health (CH) community for independent seniors. The service was followed by a Celtic musical performance with traditional Irish instruments by "Cracked Walnuts," a husband and wife team from the Pocono Mountains. Clients also enjoyed St. Patrick's Day word games, a "wee bit o'Irish humor," history of the holiday, trivia, and a traditional luncheon of corned beef and cabbage.
Christian Health Woodhaven of Wayne and Wyckoff are active programs designed to help seniors maintain independence and improve their quality of life, while also offering a welcome respite for their caregivers. Clients are often individuals who live alone or with family. They may have a physical or cognitive impairment, be socially isolated, need assistance with personal care, or require minimum assistance to function independently. In a safe, friendly environment, participants can receive door-to-door transportation, medical care, nutrition services, social services, pastoral care, and personal-care services. In addition, planned activities and recreational programs encourage socialization and engagement, both of which have been proven to help keep the mind sharp.
For more information about Christian Health's adult day services program, call (201) 848-5200