Ramapo Ridge Partial-Hospitalization Program at Christian Health Offers Mindfulness Tools to Consumers
Ramapo Ridge Partial-hospitalization Program (RRPP) at Christian Health (CHCC) in Wyckoff, a voluntary, short-term, partial-hospitalization program, is on the cutting edge of helping consumers get back to a life of health and wellness. Whether it's helping to prevent the need for inpatient treatment or as a step in the continuum of care following inpatient treatment, the staff continuously looks for ways to get ahead of health-care trends coupled with an ongoing commitment to delivering education to our consumers.
Recently, a CHCC intern, along with several employees at RRPP, created a special board in the program to exhibit the availability of mindfulness tools. The board features various kinds of applications available to consumers to download on their mobile devices or computers. Whether it's a mood-tracking diary or breathing techniques, these apps often benefit and enhance the healing process.
"Navigating mental-health recovery can be challenging," said Bart Mongiello, LCSW, Director of LiveWell Counseling/ Ramapo Ridge Partial-hospitalization Program /Bergen County Senior Services/Aging & Disability Resource Connection. "Therapy, mindfulness, and activities are all part of healing. This board provides vital information regarding applications and websites to jumpstart recovery."
RRPP is a voluntary, short-term, partial-hospitalization program for individuals 18 years and older who need comprehensive treatment, but who do not require hospitalization. The program is designed to help clients decrease symptoms of mental-health conditions and develop coping skills needed for community living. The team's objective is to assist the individual in achieving his/her treatment goals through participation in a scheduled full- or half-day program.
CHCC provides a broad continuum of high-quality, compassionate care, offering superior senior-life, short-term rehab, and mental-health services. As a non-profit organization, we deliver care to our community based upon the Christian principles on which we were founded more than a century ago.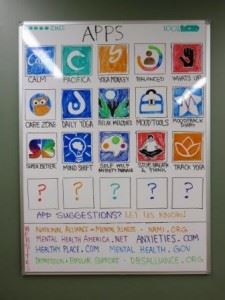 The Mindfulness Tools board displayed in Ramapo Ridge Partial-hospitalization Program (RRPP) is created to look like a mobile phone screen.