Longview Stands Tall with Excellent Advanced Standing Recognition for the Fifth Consecutive Year
The Longview Assisted Living Residence at Christian Health (CH) in Wyckoff has received the distinction of Advanced Standing status for the fifth year in a row. Advanced Standing status is governed and granted by a collaboration of the Health Care Association of New Jersey and the New Jersey Department of Health. The program, which is open to all licensed assisted-living residences and comprehensive personal-care homes in New Jersey, is intended to survey assisted-living facilities beyond whether it meets minimum state-licensure standards.
"Achieving five years of continued Advanced Standing status at Longview is a wonderful testimony about the devotion of our team to our residents," said Douglas A. Struyk, CPA, LNHA, CH President and CEO of CH. "As we continue to commit ourselves to provide excellent person and family-centered care, this is a wonderful affirmation of our efforts."
By participating in the voluntary Advanced Standing Compliance Evaluation, CH continues to exhibit its dedication to exceptional care. The Advanced Standing process begins with much of the compliance information and documentation being sent in first, and then a follow-up visit is conducted by a surveyor. Upon exit, the Longview facility was identified as in compliance with all state, local, and federal regulations that pertain to licensed assisted-living facilities in New Jersey, and it was stated that no corrections were needed. Furthermore, this recognition proves commitment to quality by participating in the National Center for Assisted Living's Quality Performance Measures for certain prescribed quality indicators as chosen by an appointed peer-review panel.
Pamela Rooney, CALA, CTRS, ADC, Longview Administrator, concluded "I am thrilled to share that Longview has achieved the designation of Advanced Standing for the fifth consecutive year, thanks to the collective efforts of our entire team of staff here at the Longview! The surveyor made positive remarks regarding observations of the warm interactions observed between staff and residents, the 'phenomenal education programs offered,' how amazing it was that our satisfaction scores with meal services were so high, and the 'really, really nice activity programs,' as well as how clean and well-maintained our program is. It is a team effort and serves to demonstrate that our staff not only cares for, but cares about, our residents."
This year, the Christian Health Foundation's Annual Fund has been designated to help renovate and refurbish The Longview Assisted Living Residence to
enhance the home-like environment and be even more suitable for the changing and growing needs of its residents. These upgrades will optimize quality of life through health, healing, and wellness for Longview's residents, families, and visitors. Please visit ChristianHealthCare.org/Donate to make a donation.
For more information about Longview, call (201) 848-4303 or visit ChristianHealthCare.org.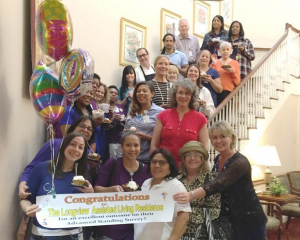 Staff of The Longview Assisted Living Residence at Christian Health in Wyckoff celebrates receiving the distinction of Advanced Standing status for the fifth year in a row.