Hooray for the Red, White, and Blue!
Clients at Christian Health Care Woodhaven of Wayne recently celebrated July 4 th by wearing red, white, and blue. In the morning, they enjoyed playing Independence Day trivia, history and word games, followed by a patriotic sing-along performance led by volunteer Jenna Clover. In the afternoon, they played Fireworks Bingo and snacked on red, white, and blue ice pops.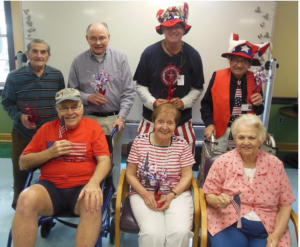 Pictured, standing, from left, are clients Anthony D'Ambrosio and Steven Klinkowize, both of Clifton, staff Bus Driver David George of Wayne, and client Charles D'Angelo of Clifton. Pictured, from left, seated, are clients Thomas Ihnken of Pompton Plains, Clementine Sesso of Wayne, and Rita Petronzi of Elmwood Park.