Christian Health Couple Celebrate Valentine's Day Every Day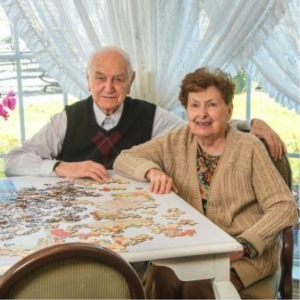 Although Valentine's Day only appears once on the calendar, Len and Columbia Provenzale celebrate their love for one another every day of the year. They were teenage sweethearts. He was born and raised in Paterson. She grew up in Fair Lawn. They met through one of his co-workers. This year, Len and Columbia Provenzale, now residents of Christian Health (CH), will celebrate their 61st wedding anniversary.
"Christian Health is a beautiful place," Mr. Provenzale said. "It's great for us."
Mr. Provenzale lives at Hillcrest, an independent, supportive senior-housing residence. Mrs. Provenzale lives at the Courtyard at The Longview Assisted Living Residence, a home for individuals in the early to mid-stages of memory impairment. The residences are just a short distance from each other.
"I can visit her every day. It's so nice knowing that she's so close," said Mr. Provenzale, "Weather isn't a factor, and I don't have to rely on others to drive me to see her."
When Mrs. Provenzale was first diagnosed with Alzheimer's disease, Mr. Provenzale was able to care for her in their Waldwick home. As her illness progressed and as they both aged, caregiving became difficult.
"Taking care of Columbia was placing a strain on me," Mr. Provenzale says. "My daughter-in-law's mother lived at Hillcrest. That's how I became familiar with Christian Health. It gave me the foresight to see into the future."
Mrs. Provenzale moved to the Courtyard three years ago; Mr. Provenzale moved to Hillcrest a year later.
"I decided to move to Hillcrest because I saw the care that Columbia received and felt secure, and because I wanted to be closer to her," Mr. Provenzale says.
The Provenzale's family, a son and two daughters and their families, are awed by the Provenzales' devotion to one another.
"After 60 years of marriage, it remains inspiring to see Len and Columbia's commitment and their promise to walk beside each other, to share the burden of challenges and the sweetness of life's joys," said the Provenzale, Heffner, and Buono families in a statement. "Mom and Dad, thank you for leading by example and showing not only us, your children and grandchildren, but also all of those around you that 'now these three remain: faith, hope, and love. But the greatest of these is love.' (I Corinthians 13:13)."
For more information about Hillcrest or the Courtyard, call (201) 848-5200 or visit ChristianHealthCare.org.