"Amazing" Care Leads to Success in Short-term Rehab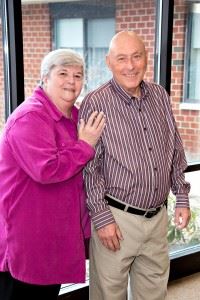 Allen Lowitt has one word to describe his stay on The David F. Bolger Post-acute Care Unit (PACU) at Christian Health: "Fantastic!"
The 76-year-old Pompton Plains resident arrived at the PACU in a wheelchair and on oxygen following triple-bypass surgery at The Valley Hospital in Ridgewood. Five weeks later he walked out of the unit without any assistive devices, eager to return to his normal routines.
"I had no idea that I was going to have a triple bypass," Mr. Lowitt explains. "I was supposed to have a stent put in, but the surgeon determined that I really needed a bypass."
As his nine-day inpatient stay was coming to an end, his social worker provided a list of potential rehabilitation facilities to his wife Lee.
"Christian Health was on the list. I had only heard good things about it, and I always notice vans for Christian Health Care Adult Day Services program in our neighborhood," Mrs. Lowitt says.
Upon Mr. Lowitt's arrival at the PACU, assessments by the interdisciplinary team were conducted quickly. The full-time, on-site team includes physicians; a physiatrist (a physician who specializes in rehabilitation); registered nurses; certified nursing assistants; physical, occupational, and speech therapists; social workers; discharge planners; activities staff; and chaplains. Mr. Lowitt's overall health, age, and physical limitations were taken into consideration when developing his personal care plan, as was his exercise tolerance, maximum heart rate, muscle strength, joint mobility, peripheral blood flow, vision, hearing, motor skills, coordination, and balance.
On the PACU, rehabilitation is a key component of care. Mr. Lowitt began physical and occupational therapy the day after he was admitted.
"My therapy consisted of walking, leg strengthening, climbing stairs, and working on balance. I practiced getting in and out of bed, and getting dressed by myself," he explains. "I no longer needed the wheelchair a week and a half after I came to the PACU. The therapy was excellent. I had six or seven therapists. Every single one was terrific. Every single one knew what therapy I had done with the others because it was all documented."
Patient and family education is another key component of PACU care. To that end, Mrs. Lowitt met with a registered dietitian for information about the most beneficial diet for her husband.
"The amount of people who help the patient and family is amazing," she says.
Upon Mr. Lowitt's discharge, his social worker had arranged for outpatient physical therapy.
"The concern of and care by the entire staff – from the therapists to the nurses to the certified nursing assistants to the people that clean your room – is remarkable," Mr. Lowitt says. "When I came here, I couldn't do much for myself. Thanks to the whole staff, I was able to take care of myself at almost 100 percent when I got home."